Noise Fields
Annual Conference, February 9, 2023,
School of Environment & Architecture, Mumbai
ZOOM LINK
Noise is immanent to space, its production, modulations and mediations. Readings of varied intensities of acoustic waves as vibrating matter have largely followed conceptualisations of a right to enjoy property, both private and public. Such readings, driven by logics of property, have lent not just to the distinction between 'sound' and 'noise' as urban entities, but have also produced a field of acoustic design and governance with an ever increasing array of experts–architects, planners, engineers, lawyers, doctors–concerned with the science and policing of noise, often as nuisance, pollutant or hazard. Architectural inquiries and practices have either ignored or insulated themselves from engaging with noise in other productive ways for varied reasons: prevalence of oculocentric and orthographic methodologies for drawing space; acoustic studies that focus on transmitting signals effectively across space and muffling out noise; and predominance of spatial inquiries into "silences" informed by social theory.
Noise Fields moves beyond the insular techno-managerial forms of engagement and operationalises different ways of making sense of the cacophony and excesses of noise in contemporary Southern cities, and how these shape and are shaped by the political realities of power, violence, freedom and hope. In these cities, both historically and today, noise draws attention to the varied intensities, energies, frequencies, claims and rhythms of human and other-than-human entities that intersect and affect each other. Here, attempts to regulate and tame "noise" through technologies of law, policing, and planning are in a continuous interplay with whispers, songs, murmurs, stories, gossips, twitters, and clamors that imagine and produce other sonic worlds. Often, frequencies of noise produce frictional spaces of multiple forces operating at different scales that interfere, weaken, pixelate, corrupt and at times even eliminate other frequencies. As technological entities, noise points to diverse temporal architectures produced, circulated and received beyond sources of their origin: radio static, digital noise, air pressure, cosmic noise and even daydreaming. As aesthetic and sensorial fields, the different and differing modulations of noise in Southern cities are suffused with spirits and soul–some dangerous, menacing, spooky, eerie, dull and drab; others tempting, tantalizing, enthralling and hypnotic. While much ink is spilt over the spirits and souls of beings, buildings and urban spaces of these cities, little attention is paid to the dense cultural repertoires of imagination, fear and desire presented by their noise qualities.
Noise Fields invites architects, artists, academics, and practitioners to deliberate on "noise." It asks: how can spatial and cultural practitioners offer creative and purposely politicized provocations on the noisescapes that we inhabit, and their different modulations and representations that compose our urban worlds? The panelists will engage with noise in different ways: as a heuristic device to 'listen to' and 'draw out' the polyphonic compositions of urban life; as a 'vibrating entity' that we traverse and experience everyday; as a 'sensorial and technological entity' that lurks within representations of space and disturbs them, despite efforts to erase it; and lastly, as an 'aesthetic field' that warrants a spatial inquiry into the sonic lives of power, law, violence, freedom, and hope.
ZOOM LINK
Schedule

Note: All times in IST.
This event is free and open to everyone across the world.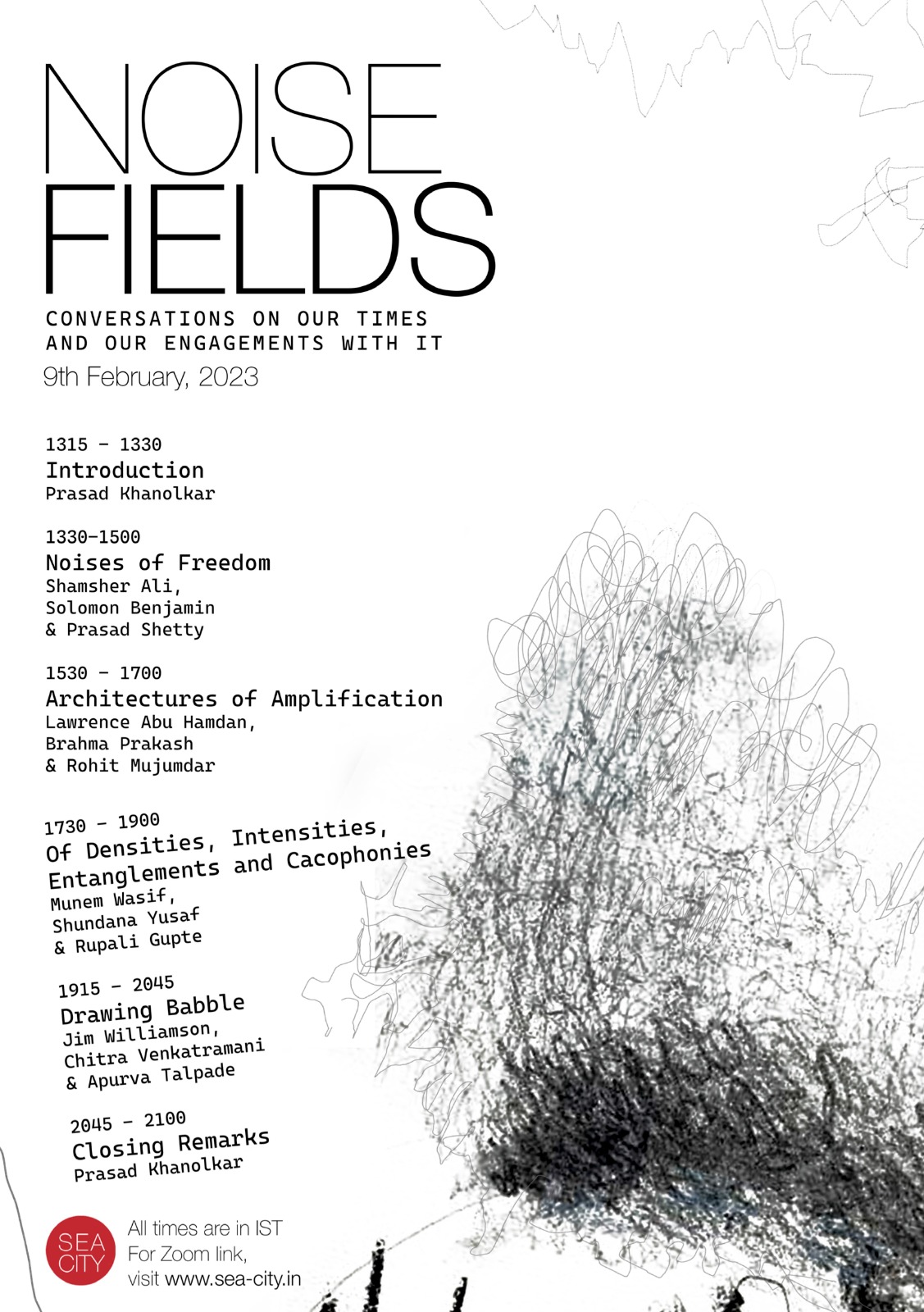 1315-1330 Introduction

Prasad Khanolkar, Assistant Professor, School of Environment and Architecture, Mumbai, India


1330-1500 PANEL I: Noises of Freedom

Shamsher Ali, Writer and Artist, Delhi, India

Solomon Benjamin, Urbanist and Professor, Department of Humanities and Social Sciences, Indian Institute of Technology, Madras, India

Prasad Shetty, Urbanist and Professor, School of Environment and Architecture, Mumbai, India







The old saying, 'pardon the noise, it's the sound of freedom', is largely popularised by the American churches and the army, and therefore may sound very nationalistic. It nevertheless connects the thick, incoherent, unruly, unclear, babbling and rambling entity called 'noise', to a cherished and loved human value called 'freedom'. In this panel on cities, we will explore two aspects of noise - a metaphor for unclear thickness and its relationship to the idea of freedom. One way to think about cities is as densities - of people, claims, legislations, infrastructure, cars, buildings, food, work, information, machines, pollution, stimuli, dreams, aspirations and many more things. The higher these densities, higher is the urbanness of cities. Spatial practices that engage with cities have hitherto been trying to tame these densities to find order and clarity believing that this enterprise will bring in happiness and durability to human life. It is not odd that 'optimisation of densities' has become an important preoccupation amongst spatial practitioners in cities today. However, and consistent with the links of noise (densities) with freedom, many have also argued that such an enterprise is also exclusionary and inequitable and doomed to create cities with shorter lives. How does one then engage with a city if it is to be imagined as an unclear thickness? What could be the modes and methods for this engagement? What is the urban form that gets produced through the thicknesses of life? What is the relationship of these thicknesses and the urban form to notions of justice, liberty and equity?


1530-1700 PANEL II: Architectures of Amplification

Lawrence Abu Hamdan, Artist and Private Ear, Beirut, Lebanon

Brahma Prakash, Assistant Professor, School of Arts and Aesthetics, Jawaharlal Nehru University, New Delhi, India

Rohit Mujumdar, Urbanist and Assistant Professor, School of Environment and Architecture, Mumbai, India

How does the cultural framing of urban sound into noise shape and get shaped by architectures of amplification? We pose this question in the backdrop of ongoing socioeconomic changes in urban regions across the world that draw attention to not only the changing nature of urban sounds but also the intensification of temporally punctuated rhythms for their amplification into noise. Amplifications accentuate existing socioeconomic faultlines, and urban fears and desires as sonic waves pierce physical and cognitive boundaries in ways that the ocular remains limited in doing, in spite of their intersections. Noise here is not merely an increase in decibel levels but draws sharp attention to the cultures of listening, or conversely, silence and even deafness. Sonic waves are made into noise, first and foremost, through a cultural framing of sound. And second, if industrial modernisation produced possibilities for the amplification of sound, amplification offers us a heuristic device to explore the relationship between the production, consumption and representation of urban sound, which together constitute the cultures of listening..


1730-1900 PANEL III: Of Densities, Intensities & Entanglements and Cacophonies

Munem Wasif, Artist, Curator and Educator, Dhaka, Bangladesh

Shundana Yusaf, Associate Professor of Architectural History, School of Architecture, University of Utah, Salt Lake City, USA

Rupali Gupte, Urbanist and Director, School of Environment and Architecture, Mumbai, India

The densities, intensities, entanglements and cacophonies that make the cities of South Asia have been seen as noisy, messy, dirty, out of control and in need of discipline via the 'project'. This perspective misses out the energies, force fields and imaginations that the cities of South Asia have generated in the production of lifespaces, as opposed to the structural violence that the many plans, policies and programmes have created in presenting a picture-perfect image of cities. The architecture of the cities in South Asia can be seen to be produced through the overlap of polyphonous rhythms. These rhythms can be seen as sedimentations, incrementalities, collages, montages that generate unique architectural spaces that hold force fields of imagination. These sedimentations also have the capacity to hold multiple agencies, diversities and differences. This panel will call upon spatial thinkers and practitioners to dwell on the energies in South Asian Architecture and Urbanism that have produced spaces that have within them potentials to spiral into new ways of being and into new forms of spatial justice.


1915-2045 PANEL IV: Drawing Babble

James P. Williamson, Professor, College of Architecture, Texas Tech University, Lubbock, USA

Chitra Venkataramani, Environmental Anthropologist and Assistant Professor, Department of Sociology and Anthropology, National University of Singapore, Singapore

Apurva Talpade, Visual Artist and Assistant Professor, School of Environment and Architecture, Mumbai, India
A widely held tenet of architectural thinking and pedagogy at SEA is that drawings are the labour of an architect, and it is within their examination, and through their critical practice that the architectural imagination takes shape. The imagination of space as a container brought about by drawing in orthographic systems, and one that is defined numerically by its dimensions, brings about the exclusion of aspects of architecture that are felt, but that elude easy categorisation and assessment. Narratives, events, encounters, the muddling details from whence complexities and absurdities arise, circumstances of the experience of light and sound and touch, the everyday, become secondary considerations in the production of drawings. They are noise - the enemy of information - the peripheral, inessential, incidental; lurking beyond the measurable entities accurately and authoritatively put together by classical architectural drawings, measured and working drawings. These drawings make space benign as opposed to one being made and unmade by physical as well as intangible practices.

What are the drawings and images that use this noise as a vital and dominant instrument? What is their sense of measure? What new spatial readings do they offer? In what ways are we, through a nod to the complexities and vagaries of the everyday, and through multiple practices across various media, finding linear ideas of space being challenged and reconfigured? How do we use the metaphor of noise - as distracting from the precise but also from the limiting, as befogging the ordered and civilised nature of life that is continuously prescribed, and as liberating the spatial conditions of humans from stipulated and formulaic arrangements. This panel hopes to open up our assumptions about our spaces and their drawings using the noises of subjectivities to trace and locate new coordinates for visual culture within architecture and explore a new visual vocabulary.

2045-2100 Closing Remarks

Prasad Khanolkar, Assistant Professor, School of Environment and Architecture, Mumbai, India