next on
SEA CONVERSATIONS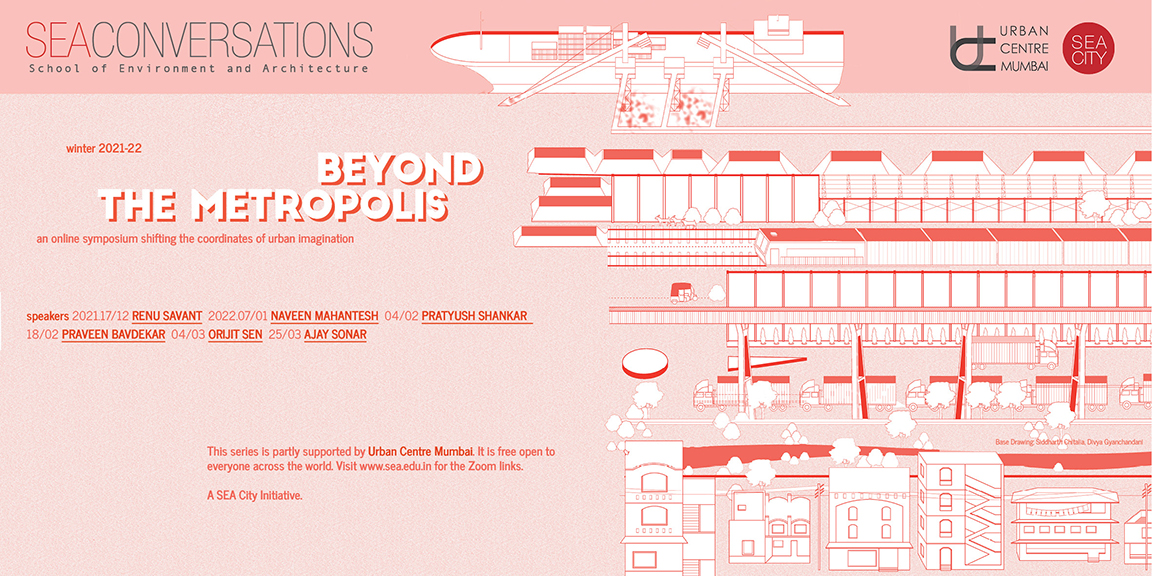 BEYOND THE METROPOLIS
an online symposium shifting the coordinates of urban imagination




Urban conditions beyond metropolises in India have been widely viewed as inward looking enclaves of local economy, culture and politics. Urban life is considered to unfold here in the shadow of the globally connected and much sought after "world-class" metro cities through illegible property rights, social interactions enmeshed in primordial communal passions, the architecture of an urban form that lends towards social segregation and so on. As emerging contexts fuel the explosion of such urban conditions, India's urban turn has decisively poised towards the proliferation of small cities during the last decade. This series of SEA Conversations invites artists, architects, filmmakers and urbanists to offer provocations on how we could read into and engage with the multiple, emerging presents and futures of urban life, urban form and architecture beyond the metropolis.

speakers

2021.17/12 Renu Savant
2022.07/01 Naveen Mahantesh
04/02 Pratyush Shankar
18/02 Praveen Bavdekar
25/03 Orijit Sen
01/04 Ajay Sonar









Session #6
Notes on 10 years of practice
by Ajay Sonar
on Fri., 01 Apr 2022 @ 5:30 PM IST
Over the last decade, Nashik has seen rapid urban shifts - evident in the sharp rise of religious tourism, educational institutions, new retail and entertainment establishments, industrial growth as well as new forms of working and living in the built environment. Such developments transform cultural and building practices of a place, that ultimately produce a new experience of the city. Our practice shapes and gets shaped in the midst of this transforming urbanization. 'Notes on 10 years of Practice' aims to reflect through the architectural and spatial responses of our practice to such changing landscape over the last decade, thereby reframing an understanding of Nashik itself.

ABOUT

'a for architecture' was founded by Ajay Sonar and Monali Patil in the year 2011 in Nashik. Ajay Sonar was born in a family working in the construction industry over the last three generations. He graduated from the College of Architecture, Nashik, after which he worked in Mumbai for a period of two years before setting up his own practice. He is an Alumni of 'Glenn Murcutt Masterclass, 2014' organized by Australian Architecture Foundation in Sydney, Australia. He has also been a visiting faculty in various colleges of Nashik and Mumbai in the last 10 years.



Monali Patil graduated from College of Architecture, Nashik, after which she worked for two years in a landscape firm in Nashik. She did her specialization in 'Sustainable Management of Natural Resources and Nature Conservation' from Ecological Society of Pune before setting up her practice. She is actively involved in research on Indigenous species and ancient medicinal plants of India.
This series is partly supported by Urban Centre Mumbai.
It is free open to everyone across the world.